Free Industrial Property Assessment and Insider Industrial Real Estate Listings
Connect with Chicagoland's Premier Industrial Real Estate Resource. Discover the true value of your industrial property or find the perfect industrial space to elevate your business.
Get Your FREE Evaluation
Unlock the Value of Your Industrial Property in Chicagoland
You own an incredible asset: industrial space in the Chicago metropolitan area. But what's it worth?
Whether you're looking to sell, lease, or are simply curious about your industrial property's value, our complimentary assessment will provide you with an up-to-date dollar estimate.
1.
Share your property's location within Chicagoland
2.
Provide your industrial property details and square footage
3.
Add your email and phone number (optional)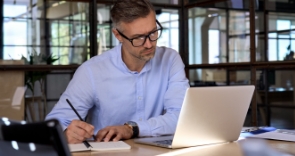 4.
Receive your personalized Assessment Report
Get Your Complimentary Industrial Property Report
"*" indicates required fields
Find Your Ideal Industrial Space
You know your industry, and we know industrial real estate. Each industrial property type is unique, from warehouses to manufacturing and cold storage facilities. Let us help you find your perfect fit.
Our complimentary Industrial Property Report offers location-specific information and exclusive insights unavailable anywhere else.
1.
Tell us where you're looking for industrial space within Chicagoland.
2.
Specify your preferred industrial property type and square footage.
3.
Share your email and phone number (optional).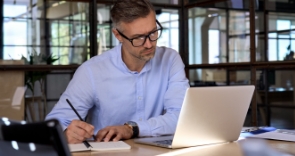 4.
Receive your Assessment Report.
Hand-Curated Property Collection matching your exact specifications
Hard-to-Find Listings found with exclusive insider real estate information
Robust Property Evaluation, including:

Sq. footage
Building amenities
Rent prices
Building pictures
Plus, find a property you like and we'll send you a complimentary In-Depth Analysis on it:
Hear From the Experts
Your report is generated from the expertise of field researchers, proven rating models, quality assurance specialists, and market advisors.
Dig Into the Weeds
Learn the fine details like floor plans, location photos, and space notes.
Get to Know the Neighbors
Discover key tenants in the building, find the right professional environment, and grow your referrals.
Nail the Commute
Get the travel rundown with a transportation analysis covering nearby airports, commuter rails, parking, and a walkability score.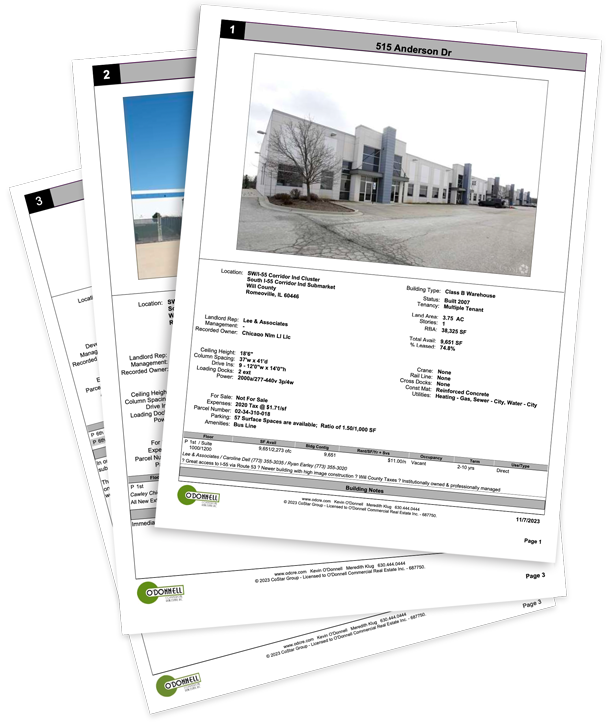 O'Donnell Commercial Real Estate, Inc.
For over three decades, we've handled some of Chicagoland's largest industrial, medical and commercial real estate deals. Our expertise and experience has empowered property owners and businesses to secure game changing property deals.
If you're considering selling, buying, or leasing an industrial property in the Chicago Metropolitan area, put your trust in O'Donnell Commercial Real Estate, Inc.
Call us today, and let's discuss your next move!
311 N. Second Street, Suite 300
St. Charles, IL 60174
Check out some of our available listings!
Find Your New Industrial Property!
"*" indicates required fields
Get Started Now
Share details about your existing property or the property you're looking for and we'll provide a detailed complimentary report.
GET YOUR FREE REPORT